20 Christmas Greeting Cards & Wishes for Facebook Friends.
https://greetings-day.com
https://greetings-day.com
Merry Christmas to all my Facebook friends.
Be kind to each other and
have a Happy Holiday season.
---
I wish all my friends cherish the past,
value the present and hope for the future.
May all your wishes be fulfilled.
These are my best wishes for Christmas.
Season's Greetings to All!
May this Christmas bring love,
understanding and
good cheer to you are your families
and may the New Year bring peace
and tolerance to the world.
Merry Christmas to everyone!
I love you all and
I wish you all many blessings.
Have a fun filled New Year.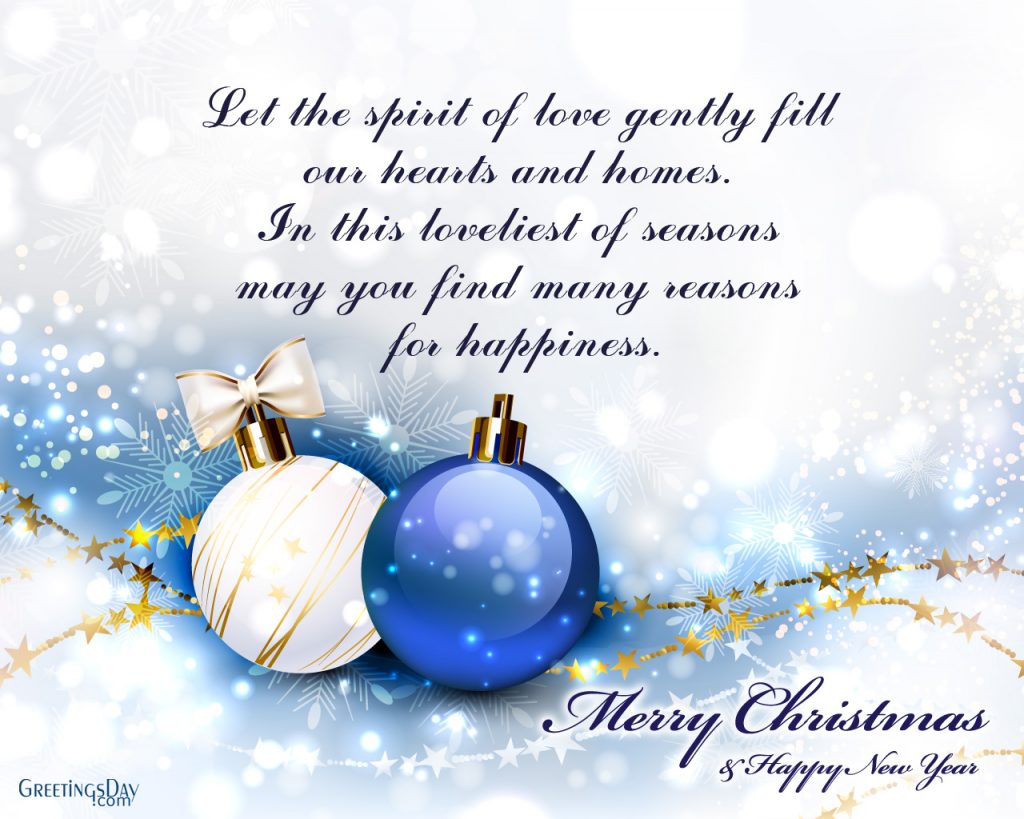 Wishing everyone a happy and holy Christmas!
Be loving and happy in this Holiday season
and through the year.
Wishing everybody a very Merry Christmas.
May your days be filled with love from family
and friends, and all the best for the New Year.
A very Merry and Holy Christmas to all my friends.
May God bless you and have many happy returns.
May all your days be happy and cheery.
Seasons Greetings to all my friends.
I am sending my Christmas wishes to you all.
I hope you have a happy time with friends and family.
I send you millions of kisses and hugs.
Merry Christmas, my dear friends.
Season's Greetings and Blessings
to all my friends!
May your days be merry and bright.
May all your dreams come true.
May your life be filled with happiness and love.
A Very Happy Christmas to everyone,
but above all  A Peaceful New Year!
Wishing all of you a merry Christmas
and a happy New Year.
Hoping the season will be full
of unexpected blessings.
Merry Xmas & A Happy New Year to all.
May the good times and treasures
of the present become the golden memories of tomorrow.
Wish you lots of love, joy and happiness on Christmas.
Have a Merry Sparkling Christmas
and a Jolly New Year! 
Hope this glorious season
gives you many new reasons to rejoice!
Christmas blessings to everyone! 
Hope all your dreams come true.
Dear Friends,
Wishing you a merry Xmas &
a very happy New Year.
Thinking of you all this Christmas.
God bless you all.
May everyone have
a wonderful, happy Christmas!
Wishing you every blessing
this festive season!
Merry Christmas to everyone
and their families and other special
people in their lives.
I wish you all a happy, healthy and
prosperous new year.
Happy Christmas Everyone!!!
May your Christmas be happy,
your feasting be fantastic and
your celebrations be sensational!
Hope you all get everything you wish for.
Happy and healthy time for everyone.





(3 votes, average: 4.00) -
Loading...
URL: (direct URL to the post)
https://greetings-day.com/merry-christmas-happy-new-year/christmas-greeting-cards-wishes-facebook-friends.html
BBCode: (for forums/guest books)
[img]https://greetings-day.com/wp-content/uploads/2016/12/warm-xmas-wishes-1.gif[/img]